The Best Chocolate Cake Recipe Ever! Chatsworth Bakehouse Imperial Stout Cake
Shop Gipsy Hill Brew
29 August 2022
---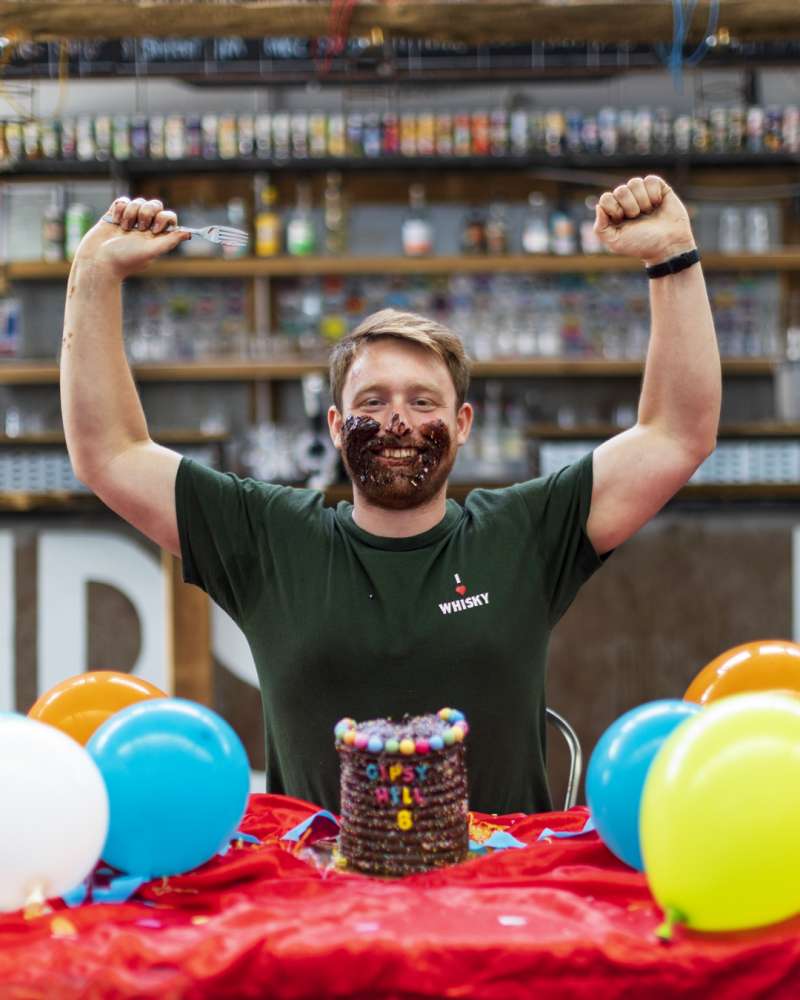 Collaborating with Chatsworth Bakehouse
We've been huge fans of the Crystal Palace-based Chatsworth Bakehouse since they opened their red-fronted shop back in 2021. How could we not? With the fluffiest focaccia, tastiest sweet treats and mega sandwiches that sell out faster than your average Glasto ticket – it's safe to say our neighbourhood bakery has got us all hooked. So, understandably when setting our sights on a birthday cake release – a Chatsworth Bakehouse collab just made sense.
Brewing Blowout; Our Imperial Chocolate Pastry Stout.
Blowout is the birthday cake we always wanted – in liquid miracle splendour. For our brew day we were joined by bakehouse founders Sian and Tom, who worked alongside our team to get the absolute most in (and out of) the brew.
Starting with more grain than we've put in any beer ever, we made use of reiterated mashing – using the liquid (wort) from the first mash as the brewing liquor for a second mash.
If that's not enough, we also added to our mash 2kg of birthday sprinkles alongside 25 kilos of cocoa powder before adding another 2kg of sprinkles to the boil. And we didn't just stop there… After fermenting with Horingdale Kveik yeast, we centrifuged and conditioned the beer on lightly roasted cocoa nibs and vanilla for 5 days to get a sweeter milk chocolate confectionary note.
We weren't joking when we said we'd put the most of everything in.
It's all brownie mix on the nose, with layers of dark chocolate richness and kicks of milk sugar sweetness. Setting you up for a very happy birthday from us to you!
And if all this talk of birthdays has got you in the mood for cake, try using Blowout in a Chocolate Stout Cake – scroll down to find the recipe from Chatsworth Bakehouse.
Chatsworth Bakehouse Imperial Chocolate Stout Cake Recipe.
Ingredients:
Cake:
– 1 can of Blowout Imperial Stout – 250g for the cake and the rest for drizzling and drinking
– 1 pack of butter
– 400g sugar
– 80g cocoa powder
– 2 teaspoons of vanilla paste
– 2 free range eggs
– 150g greek yoghurt
– 275g plain flour
– large pinch of Maldon salt
– 2 teaspoons of bicarb
The icing on top:
– 300g cream cheese
– 200g icing sugar
– 100g double cream
– 1 tablespoon of cornflour
Equipment:
– large saucepan
– digital scales
– cake tin lined with greaseproof
– whisk + spatula
– mixing bowl
– glass – to drink stout
method:
1. Place the saucepan on the scales and weigh in the stout and butter. Transfer to a low heat until the butter has melted.
2. Whisk all the remaining ingredients into the beery butter and tip the mix into the lined cake tin. Bake @ 180 degrees for 1hr.
3. Remove the cake from the oven and place it on a cooling rack. Douse the hot cake with more out Blowout Stout – as much as you dare but remember to keep some for the baker's glass!
4. For the icing… whisk together all the ingredients in the bowl until thick and glossy. When the cake is cool enough, slather the rascal in the cream cheese topping and dig in!