Quality, Community and Innovation…
Reflecting on 9 years of Gipsy Hill
News
Gipsy Hill
(Last updated - 20 November 2023)
3 November 2023
---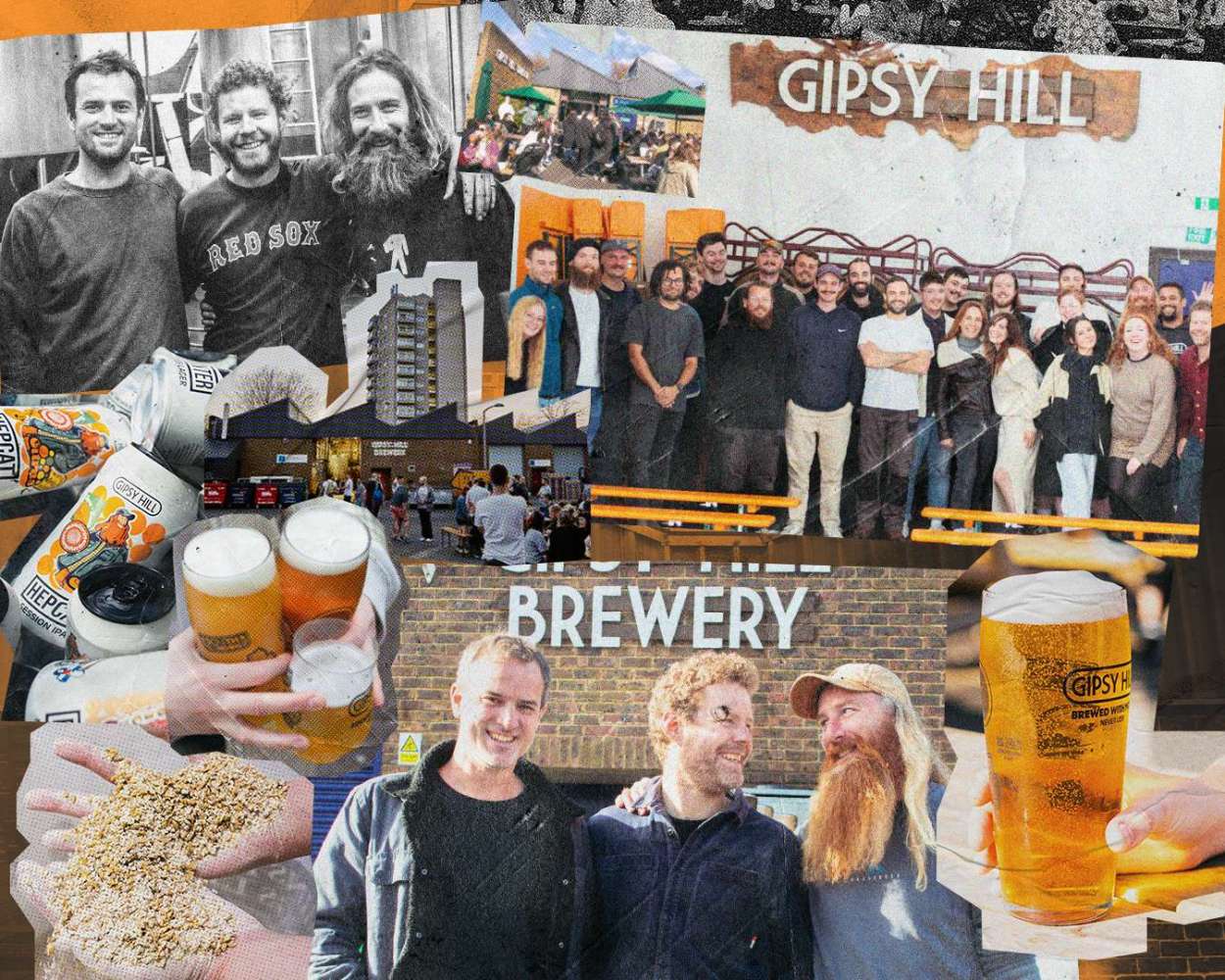 Don't invest unless you're prepared to lose all the money you invest. This is a high-risk investment and you are unlikely to be protected if something goes wrong. Take 2 mins to learn more.
This November we're launching our equity-based raise with Seedrs. And we want to give you, our community of beer lovers the chance to get involved and to own a part of Gipsy Hill yourself!
In this blog, we'll give you a closer look at what we've accomplished so far, our plans for the future, and how you can play a crucial role in the next steps of our brewing journey.
It all began at the craft beer institution, The Rake in Borough Market.
Charlie and Sam both heard from a mutual friend that they had the same plans – to build a brewery.
They met, shook hands, drank beer and penned a plan to put their stake in the brewing world.
Fast forward nine months.
Our first beers are coming out of our corner of South London. Simon joins as Head Brewer (you know the guy on Hepcat?) and for the next 18 months, we were three.
Over the next five years, our team and volumes grew. We anchored our production by adding neighbouring warehouses to our operation and opened two bars – a fully accessible taproom just across the yard from the brewery and a micro-bar – The Douglas Fir on the other side of Crystal Palace Hill. 
Everything we did focused on quality, community, and innovation.
And here we are.
Life hasn't been easy for beer-makers over the past few years. Still, despite all odds, we're proud to say we are London's largest independent brewery by volume.
The last nine years have seen us:
pioneer multiple beer styles,
develop innovative in-house processes,
establish exceptional standards for quality,
build a top-class production facility,
and how could we not mention Hepcat – which is currently one of the highest rated Session Ale of any medium-sized brewery in London.
Of course, good beer runs deeper than good equipment and good ingredients.
In 2021 we launched our employee-ownership scheme – ensuring that our team have a share in our success.
And in 2022 we launched our first community equity raise. We welcomed 581 investors – hitting our funding target in 1 day and overfunding by over 130%.
 This funding helped us double the size of our on-site taproom, grow the business by 35% in 2023 (so far), and invest in equipment and processes that have lowered our environmental impact and revolutionised sustainable brewing.
 In July 2023, we successfully launched a world-first: two offset-free, carbon-negative beers. That kicked off our journey in brewing beer that's better for our planet.  
 We achieved this by 1) rebuilding our supply chain with the introduction of regeneratively grown barley 2) Developing innovative world-first in-house processes, allowing us to reuse waste materials and reduce our carbon footprint further – with no impact on quality.
Our carbon-negative beers made real impact – with customer interest from hospitality, national retail, hotels and restaurant groups. Accompanied by press coverage in over 40 outlets including Sky News, The Mail on Sunday and The Grocer. 
Now, we aim to take an unparalleled leap: transitioning to the world's first fully carbon-negative brewery without the use of offsets.
Our crowdfunding campaign offers an exciting opportunity for investors to be part of a business which aims to make a revolutionary shift in the brewing industry as we work to build profitability alongside sustainability.
We believe that sustainability will soon become a standard in the fast-moving consumer goods (FMCG) industry, and we're determined to be at the forefront of this movement.
With your investment, we believe we can become the World's First Offset-Free, Carbon Negative Brewery, and from this, we're aiming for growth in sales from our investment in carbon efficiency.
By investing in us, you're not only supporting a local, resilient and independent brewery but also securing your place in a marketable brand that's pioneering the path to a sustainable future.
Join us in making history by investing in our mission to be the  World's First Offset-Free, Carbon Negative Brewery.
Our 2023 raise is now live to the public.
Investing involves risks, including loss of capital, illiquidity, lack of dividends and dilution, and should be done only as part of a diversified portfolio. Please read the Risk Warnings before investing. Investments should only be made by investors who understand these risks. Tax treatment depends on individual circumstances and is subject to change in future. No communications about any campaigns on Seedrs you receive from Seedrs or the fundraising business, through email or any other medium, should be construed as an investment recommendation.
 This email has been approved as a financial promotion by Seedrs Limited on 1st November 2023 and is sent by Gipsy Hill Brewing.
 Seedrs Limited is authorised and regulated by the Financial Conduct Authority. Seedrs Limited is a limited company, registered in England and Wales (No. 06848016), with registered office at Stylus Building, 112-116 Old Street, London, England, EC1V 9BG.