Regenerative farming with Wildfarmed
Digging into the details of our newest collaboration brew
Gipsy Hill
13 June 2022
---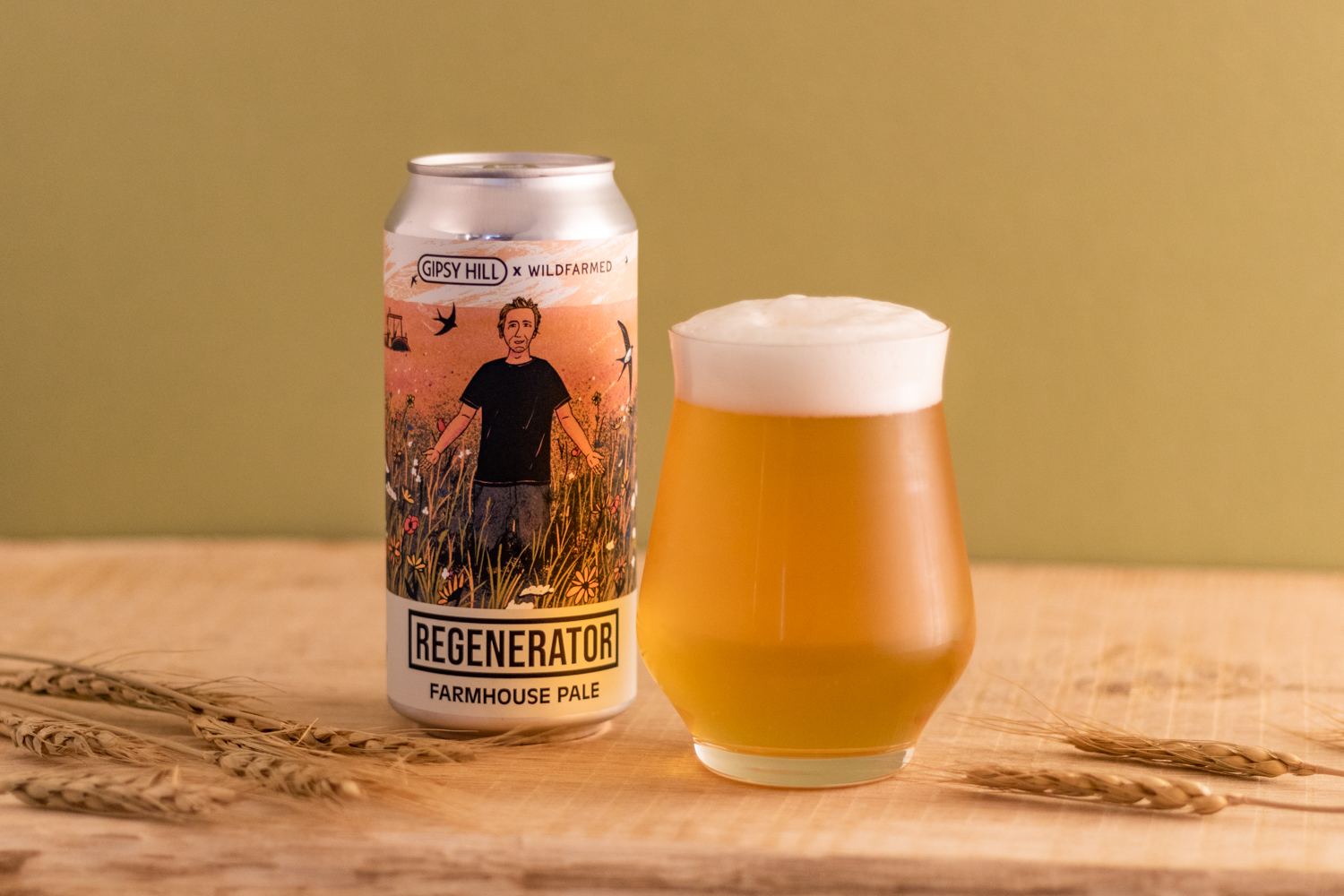 Most beers are made from four main ingredients… Water, grain, hops and yeast. With water and grain making up the largest volume. With each beer ranging somewhere in the region of 1.2 tons of barley, wheat and or oats. When you think about it. Where we source our grain is incredibly important. Take wheat for example. One of the most consumed products in the Western diet, the UK alone grew over 9 million tonnes of it last year. At a glance, these figures suggest a largely self-sufficient method of production, homegrown crops circling back into the purchase of our daily bread.  
Seems great, until you start to examine the detrimental footprint from within the supply chain. You see, our appetite for such commodities has left our agricultural system in a sorry state. Intense farming of these grain-filled goods and our appetite for such has been damaging our soil at an alarming rate. Without action, 90% of the world's soil will be significantly degraded by 2050. Coupled with the long and short-term effects of climate change – unreliable weather patterns, drought, flooding and disease – all negatively affecting the proportion of high-grade arable farmland available in the UK.  
All seems pretty doom and gloom, but we can turn things around. This is where the Wildfarmed programme comes into play. Creating a system that makes agriculture a solution to the climate crisis, rather than a contributor – we have been huge admirers of what their team have been doing for quite some time.  
Founded by Andy Cato an award-winning mixed arable and livestock farmer. Once a successful Grammy-nominated musician, Andy gave that up after reading about the dire state of modern food production. He went on to spend over a decade trying to find a more restorative and sustainable way of growing food. 
Whilst farming in France, Andy was awarded the Chevalier l'Order Merit de Agricole – the equivalent of a knighthood for services to agriculture. His original 100Ha farm in Gascony was recognised as the most innovative farm in France and was subsequently awarded the prestigious Lauréat National de l'Agro-Ecologie 2020. Now back on British soil, Andy is on a mission to help other farmers and producers adopt the Wildfarmed system.  
Wildfarmed create a market for farmers that rewards the quality of their crops, soils and ecosystems rather than the quantity of crops produced. They guarantee fair prices and support for producers transitioning to Wildfarming and never use pesticides, herbicides or fungicides -building the biggest soil and biodiversity restoration in Europe. No mean feat but one with huge potential.  
Uniquely positioned to help food businesses reduce their footprint from within their supply chain. Wildfarmed starts with flour but believe the possibilities are limitless. That's where we come in.  
As we said at the start, beer of course, is a resource-heavy good, with grain often contributing to 60% of the total brew – many a time exceeding this for higher ABV brews. With an aim to dramatically reduce our carbon footprint by the end of 2022 with goals of creating our first zero-offset carbon-negative beer. We've doubled down on our brewhouse efficiency, investing in equipment to cover the losses from the minute we acquire our ingredients to what ends up in every can and keg. Another key part of this is examining our supply chain. Seeking supplies from innovative and sustainable sources.  
And so, Regenerator was born – a Farmhouse Pale brewed in collaboration with Wildfarmed. Regenerator utilises wheat grown from Wildfarmed's biodiverse community of growers. An exciting step for all involved, this is the first time their crops have been used as part of the brewing process – and we couldn't be more thrilled. Working alongside a maltster to turn Wildfarmed's raw ingredients into beer and planet-friendly grains, we're hopeful that by choosing these products and spreading their message, we can become part of the solution.  
To mark the monumental first, the Wildfarmed team joined us down at the brewery, to share our ideas on how food can shape the future of our planet, alongside getting stuck in with the brew team on our Regenerator brew day.  
Fermented with Saison yeast to bring out a bunch of our favourite fruity esters that pair perfectly with the depth of malt flavour from Wildfarmed wheat. It's soft, funky and best enjoyed safe in the knowledge that by using these game changing grains, we are constantly improving the soil in which it is grown.  
When Andy started farming 15 years ago, he saw bare fields. Soil and nitrates cascading into rivers when it rains. Pesticides and herbicides attacking what remains of soil and insect life and a decimation of pre-industrial biodiversity – leaving the UK now in the bottom 10% of countries worldwide. These systems for change, farming in sync with nature and supportive measures within regenerative UK growing have left us feeling pretty hopeful.  
Our next steps will continue to embrace these changes, adapting our processes with a mindfulness that whilst might not reverse the damages to our planet, but can certainly help us with our mission to put as much back in as we're taking out. 
Click here to learn more about Wildfarmed.
Pick up our collaboration brew here!