HOPS! but not as you know them…
The Making of a Wet Hop Pale
News
Gipsy Hill
10 November 2022
---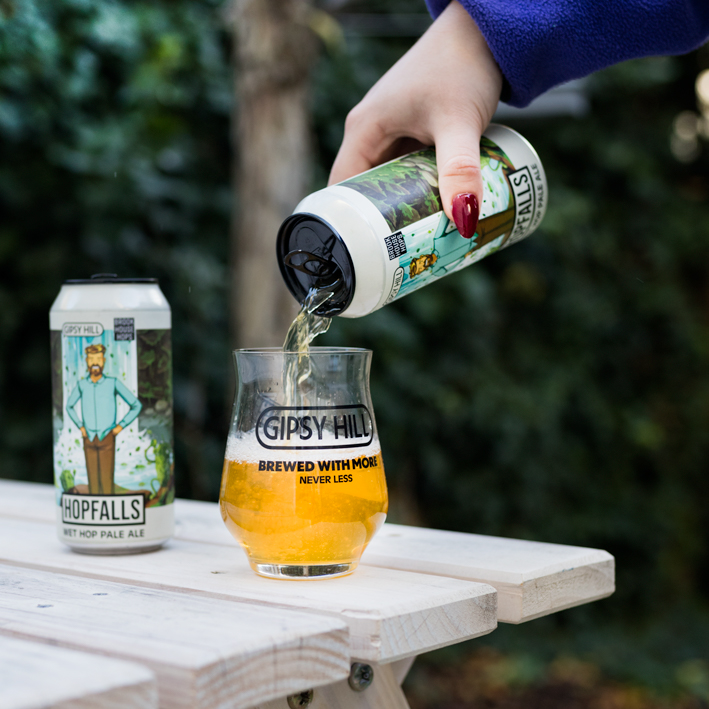 What's a Wet Hop?
When it comes to beer, we think it's safe to say – that fresh is best. Freshness of ingredients plays a huge part in the flavour and quality of a beer – and Wet Hopped beers are most definitely that – a celebration of freshness.  
A way to showcase hops in their rawest form, they are brewed with hops freshly picked right off the bine – during the annual hop harvest. Wet hops contain about 80% water – so not only do you need to use a hell of a lot more of them in the brew – the high-water percentage means they'll begin to drop in quality within 24 hours.  
Their short self-life makes it all the more fun – as brewers must spring into action getting the brew going in a matter of hours – so that the hop is used in the peak of its ripeness.  
Herefordshire's Hop Paradise
This means that Wet Hop beers are not only seasonal but also incredibly local. Making use of homegrown hops from brilliant UK growers. For us, it was (quite literally) an easy pick – teaming up with the excellent folks at Herefordshire's Brook House Hops.  
Just last year, we had the pleasure of teaming up for our Hop Farm Series – a yearly release that champions the regional nuances and provenance of hops. After the excellent feedback on Perennial – and being truly wowed by the quality of crops grown right on our doorstep – our Head Brewer Jim, put a plan together – this time focussing on the aroma packing hop – Cascade.  
Originating in Oregon USA – hops such as Cascade have been flourishing on UK soil since 2002. Thanks to the rich, red Herefordshire soil and mild climate – these hardy, late-maturing hops have become increasingly popular amongst UK brewers – with British-grown Cascade imparting very similar flavours to its American cousin – with aromas of citrus, lychee and floral up front and centre. To add to the excitement, Brook House Hops picked up seven prizes in the West of England Harvest Show – including Best High Aroma and Champion Hop for the very Cascade, you'll find in this brew. 
Brook House Hops to our Gipsy Hill brewhouse
Hop harvest for brewers, is a lot like Christmas. So, you can imagine our excitement – when we got the call from Brook House – it was Cascade picking time. Jim and Mike hopped in the van, and up to Herefordshire, where alongside Henry – their Farm Manager – got to picking 150kg of whole-cone Cascade.
With the freshest hops in town safely stored away – we got a wriggle on back to the brewery – where our whole production team were ready to get the brew on the go. With the total time from bine to brew – coming in at under 12 hours – or the average time spent on a Sunday Netflix binge. Impressive.  
Freshness and Flavour
Last week our Wet hop beer hit the canning line. And we got to take that cheeky first sip.  
The resulting beer – a Wet Hop Pale – we've lovingly named Hopfalls – is unlike anything we've ever brewed before. Using un-processed Wet hops straight from the Brook House farm – brings a uniqueness that differs from their kiln-dried counterparts.  
Like a big whack of freshness – it's packed with Wet Hop character. Citrus peel, floral and lychee balanced with a delicate earthiness, layers of light spice – and a smooth rolling bitterness. Delicious! 
Due to the seasonality of this beer style – the opportunity to pick one up – drink it fresh and celebrate the history and heritage of British hop picking, should not be missed. 
Hopfalls is available right now in all good London bottle shops, Gipsy Hill bars and over on our webshop. 
Label Illustration by: Shotopop and Featuring Henry – Brook House Hops!
—- 
See more from Brook House Hops.
Follow our 12-hour hop-picking journey.
Watch our Q&A with Founder Will and Farm Manager Henry.
Tune into our beer breakdown with Jim our Head Brewer