Big news for Bandit
from Gipsy Hill HQ!
Featured,News
Gipsy Hill
8 June 2023
---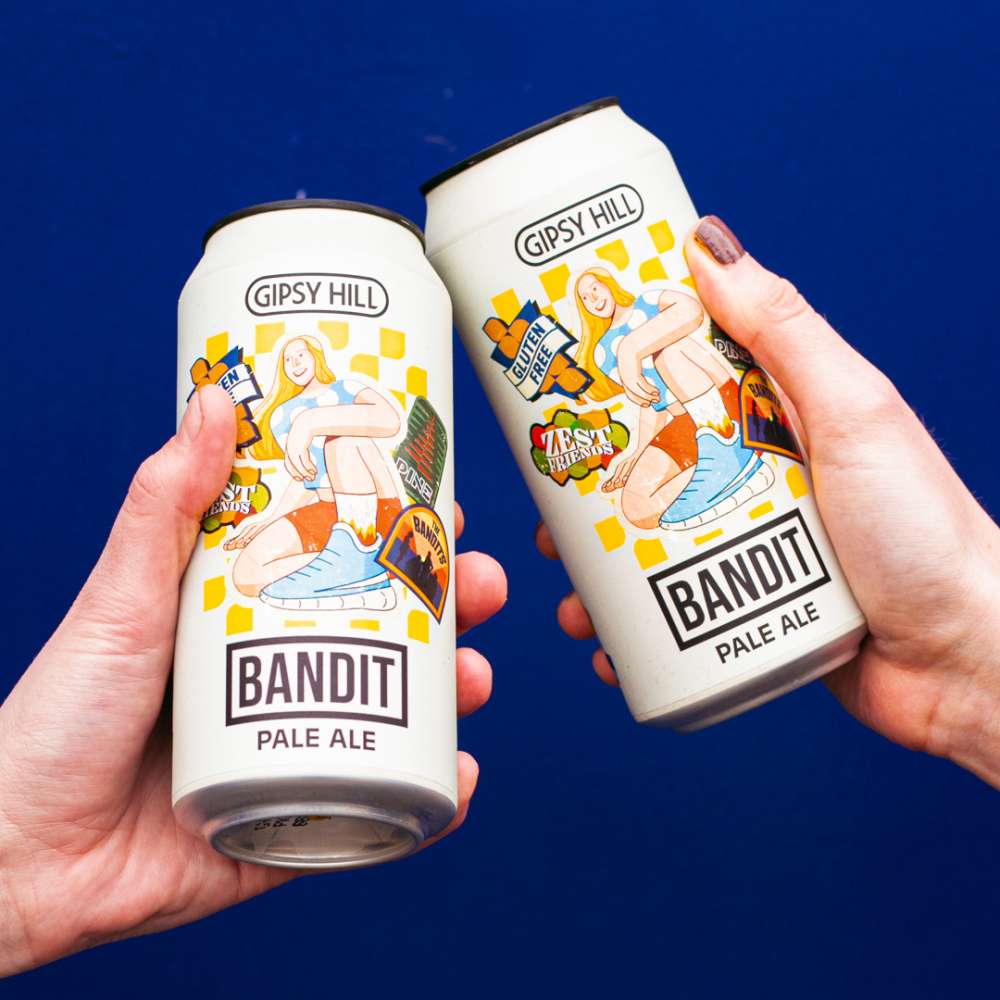 News flash: We have lowered the ABV of Bandit from 3.8% to 3.4%. 
Summer has made itself known. It's been a while. But whether you're spending long days, soaking up rays in leafy beer gardens or hanging out over park tinnies, warning wasps off your hummus. The thing that seems perfectly placed amongst every sunshine scenario is a super drinkable, soft and citrussy pale ale.  
So, with summer no longer a hazy memory, and pubs and parks filling up – we really just fancied lowering the ABV of our favourite pale – to make it that little bit more sessionable. 
From now all Bandit brewed and delivered will be 3.4%. 
No changes to the ingredients, it's still the same great recipe you love. We've just shifted our process a smidge. Brewing at a slightly higher temperature for less fermentable sugar.  
We've spent the last few months trialling these changes in our team sensory – that's the bit where we get to taste beers under the data blanket of quality control. Sounds great right? – it is, and it helps make our beers the best they can be. But anyway, results confirm we love it. Which makes us think you will too! 
A lot of you probably drink Bandit cause it's just a delicious pale ale. But we know a lot of you also drink it for its lack of pesky gluten. So, be safe in the knowledge it's still gluten-free and flavour-full!  
We do this by brewing with gluten (barley) and then use a special enzyme called 'Brewers Clarex' that turns long-chain gluten proteins into short-chain ones. Each batch is tested in-house to ensure it contains less than 20ppm of gluten – making it safe for people intolerant to it. Yeah, science! 
If you've not yet tried Bandit. Firstly, whatcha playing it?! But secondly with soft citrus, stone fruit aromatics, a little pine and a zip of lime zest – Bandit is the sorta quaffable number you just wanna gulp all summer long. We like to imagine ourselves sipping a pint of it whilst floating in a pool on a pink flamingo. We also think a can in hand, dinosaurs and a warm day in Crystal Palace Park hits the same vibe. You take your pick.  
Speaking of which, you can pick up pints of our core range classic from plenty of quality pubs around London. Or fill your boots (or Birkenstocks) with cool, fresh cans – available at bars and bottle shops as well as our ecom store, Taproom and Douglas Fir! 
We'll raise a (slightly lower ABV) glass to that!