The new look core range is here!
Brewed with more, never less.
Gipsy Hill
18 May 2022
---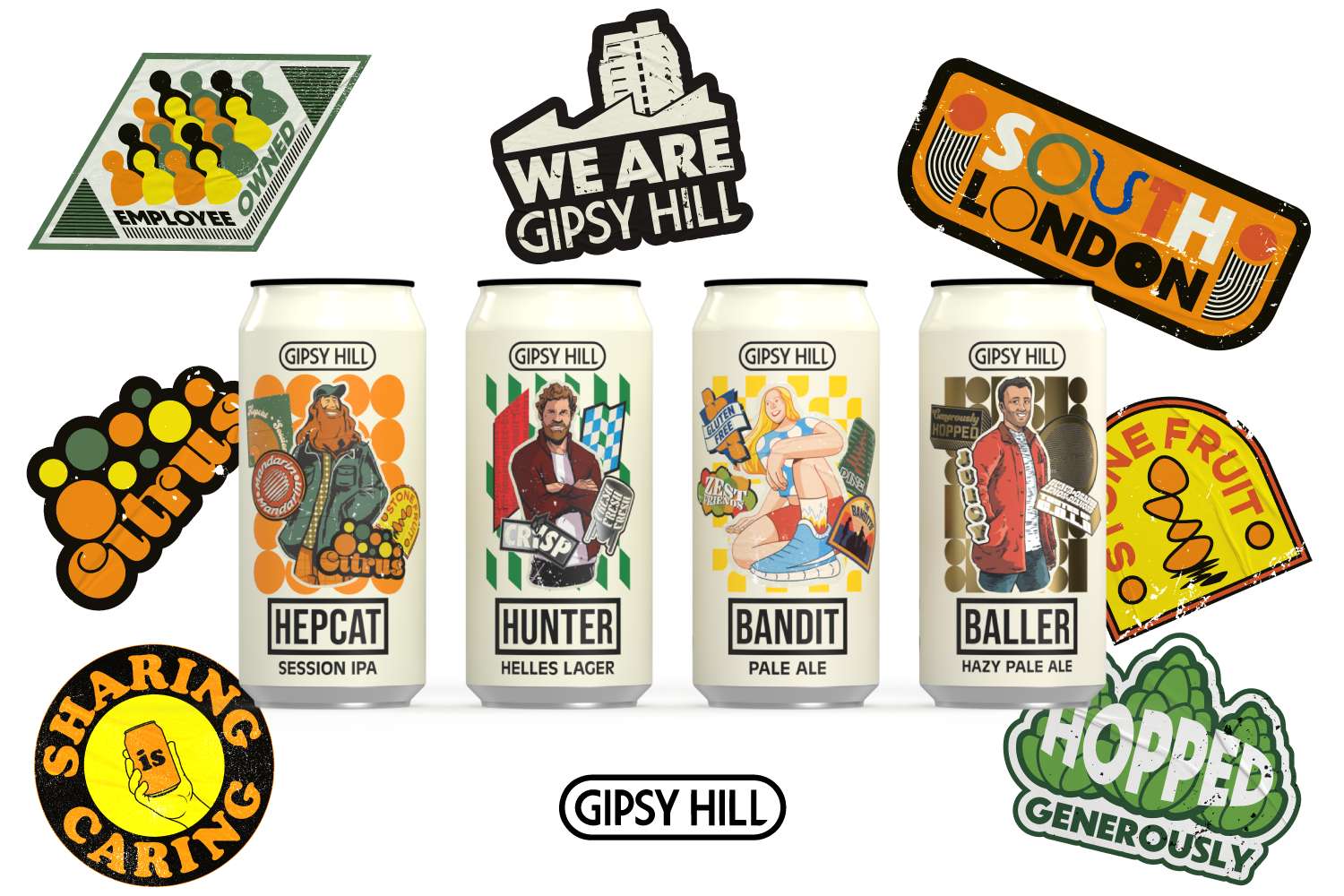 Ready for something refreshingly different? After months of hard work, we are incredibly excited to introduce you to our new look core range✨ 
After three years and no real changes to the look and feel, we felt it was time we gave the core brews a shake-up.  
Hepcat. Hunter. Bandit. Baller. Same great flavour, brand new look. 
First and foremost, let's talk about the beer. Our core brews were introduced to provide reliability to your drinking repertoire. A selection of guaranteed bangers, cult classics AND best sellers. Ready to return to – time and time again.  
After several months of sensory testing amongst our team and communities. Hepcat, Hunter and Bandit have kept the same recipe you know and love, whilst Baller has been re-worked, with a brand spanking new recipe that we'll dig into down below.  
Before introducing you to the visual changes we have made. We'd like to take a moment to say our farewells to Ranger and Carver. Two brews that unfortunately won't be appearing in the new core brew line-up. Over time we have learnt (sometimes the hard way) the art of simplification. Reducing our range creates room for future innovations whilst maintaining a vast and varied specials programme, and ensuring every brew is of the highest quality.  
With that being said, we think it's time to introduce you to the new look. Keeping our team at the front and centre of everything we do, our labels will continue to champion the real people who put in their all to make our beers the best possible. Tasked with capturing their likeness, the tenacious bunch of artists, illustrators and designers – East London based collective Shotopop, picked up the mantel. No strangers to the brewery, creating some of our favourite specials labels, we're chuffed to get the team back together to immortalise our crew on the new look brews. Working closely with our in-house designer, they have crafted something very special. 
You'll also notice an introduction of descriptive stickers. Meaning you won't need to look far to discover the key flavours and aromas that make each brew tick.  
Hepcat – Session IPA – 4.6%
Full of vibrant stone fruit and mandarin flavours. Brewed with a whole heap of hops – Mosaic, Citra, Mouteka and Ekuanot. Hepcat goes hand in hand with lively gigs in your local and that end of day catch up. Made for social meets and tasty eats. Our best seller and everything we love about the style.  
Featuring Simon, first through the door at Gipsy Hill and in charge of all our special projects. 
Bandit – Gluten Free Pale Ale – 3.8%
Oh yes, it's still gluten-free and flavour-full! Brewed with Citra, Simcoe and Ekuanot. Bandit packs zips of citrus zest with a soft piney bitterness. Perfect for park days and the eternal hope of sunshine. Bandits are better together.  
Featuring Sarah, Finance Director at Gipsy Hill and lives for the outdoors.  
Hunter – Helles Lager – 4.8% 
Exactly what it says on the tin. Hunter is a crisp, easy-drinking, quality Helles Lager. Brewed clean to let the four main ingredients shine – water, malt, hops and yeast. Saaz and Hallertau Mittlefruh lead the way, backed with a robust malt bill – for notes of honey, spice and everything nice. It's for those that deserve more, never less. 
Featuring Sam, Co-founder and MD of Gipsy Hill.
Baller – Hazy Pale Ale – 5.4%
Big up Baller. Bringing you a new look and recipe. Super juicy and brimming with tropical fruit flavour. Baller is generously hopped with our favourite US varieties – Trident, Sultana and Cascade with German Solero playing support. Brewed for celebrating life's wins, no matter how big or small.  
Featuring Charlie, Co-Founder and Gipsy Hill legend. 
You may have noticed a can size increase too. That's right. Our core beers are now available in 440ml! Cause let's face it. Right now, we could all use a little bit more bang for our buck. 
Get your hands on the brand-new brews by heading to our webshop midday this Friday 20th May. With it landing in your favourite locals from Monday 23rd – we can't wait to hear what you think! 
Questions? Head to our Instagram on May 25th for your opportunity to send us your queries and chat all things rebrand revolution. 
Love,  
Gipsy Hill