Grief Encounter
Give a little, get a little
News
Gipsy Hill
11 June 2021
---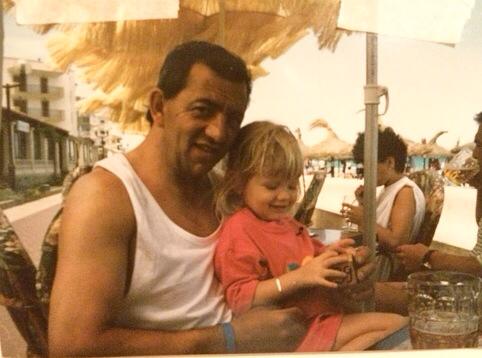 With Father's Day approaching, Ellie our Digital Community and Social Media Coordinator has collaborated with 'Grief Encounter'. Our 'give a little and get a little' campaign aims to raise money and awareness for an incredible charity. To learn more, read Ellie's blog below.
One child in every classroom will experience the death of someone close before the age of sixteen. Bereavement is devastating at any age, but for a child, it is life changing.
I had the unfortunate luck of being one of those children, losing my dad, December 98', a few days after Christmas, at just four years old. For children and young people who have lost their dad, Father's Day can be a painful reminder of what they once had, often adding fuel to the fire of social isolation – understanding this is hard, vocalising it can be even harder.
You would think, I should be well seasoned by now, as I approach my twenty third Father's Day since my dad's passing. But, of course, this is an unrealistic and arbitrary expectation about grief. Here I am, twenty-three years later, negotiating with myself about how to approach the one day designed to celebrate the one man who isn't here.
This past year has taught me that the passage of time is the only constant we have. Grief is a journey, it sneaks up on you, it hides, it's tricky and unpredictable. We have all heard the expression that 'time heals all wounds'; I do not particularly ascribe to that philosophy. Grief leaves scars, the depth of which is a testament to the loss and healing that has happened thus far. It was only when I reached my twenties, I sought the professional support of the bereavement charity, Grief Encounter, to guide me through the processing and healing of those wounds.
Grief Encounter is a bereavement charity for children and young people. Their mission is to give every child and young person access to the best possible support following the death of someone close.
They work with individuals, families, schools and professionals to offer a way through the anxiety, fear and isolation often caused by grief. They provide access to one-to-one counselling with professionally trained counsellors, group workshops, residential and fun days, accredited training courses and webinars and award-winning resources such as out Grief Relief Kit, Grief Encounter Workbook and Journal.
Their free national helpline, grieftalk is accessible to all children, young people and adults affected by bereavement and has seen a 97% increase in calls since March 2020.
An open-access charity, funded by the generosity of supporters, and after the last year, they need support more than ever, to ensure they are able to continue offering support to even more bereaved children and young people, who need them through such challenging times.
So, for Father's Day this year, we have partnered with Grief Encounter to run a discount and donation campaign.
Available until June 20th, we're offering a 10% discount across our web shop, and we will match the discount in donations to Grief Encounter.
Use code 'givealittle' at checkout.
Support and resources can also be found online by visiting www.griefencounter.org.uk or see below for Grief Encounter's free Grief Guides  
Young Adults Encountering Grief, Trauma During Covid-19, Preparing Children For Loss and Death in the Workplace .  
And to find out more about their work:  
https://www.youtube.com/watch?v=s3UY7GRERqk