Buy the NHS a Pint specials
News
Gipsy Hill
4 May 2020
---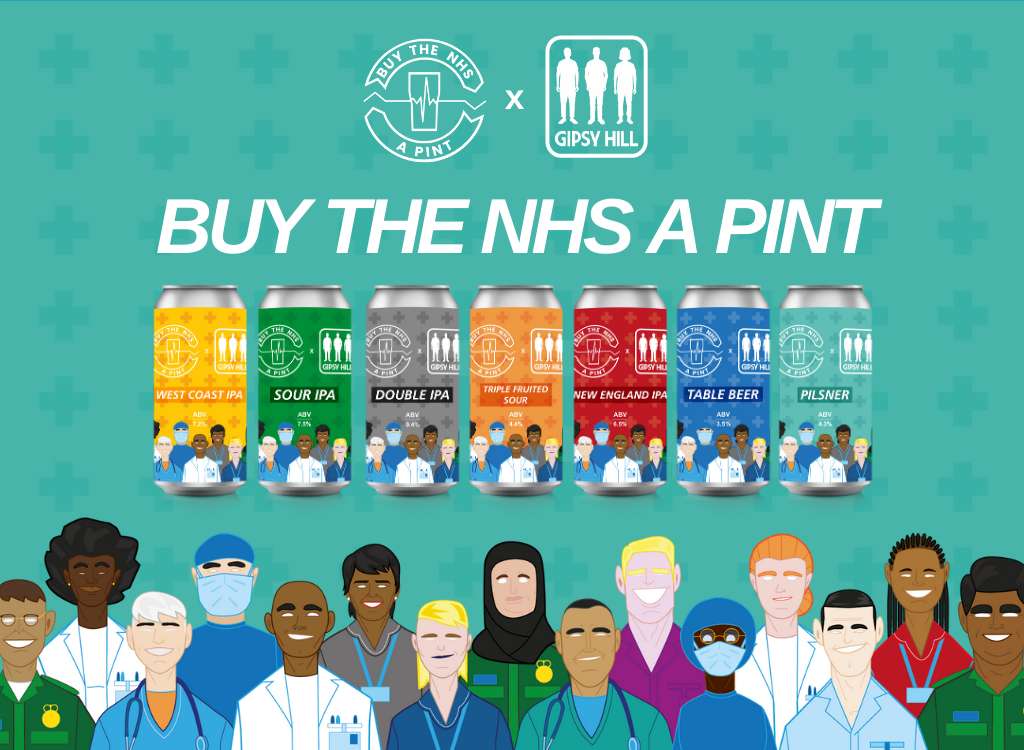 When the Coronavirus crisis hit, we launched a pay-it-forward scheme for NHS workers to be able to enjoy a well deserved drink. Our newest releases aim to spread the word of the Buy The NHS a Pint campaign, and further support the cause.
---
The reaction to our Buy The NHS a Pint scheme so far has been incredible. To date, over 1,000 pints have been donated from our webshop alone. Having started the initiative wanting to make a small gesture to support the NHS, we're now in a position to be able to giveaway 1,000 pints once we reopen our doors, all thanks to your support.
What's more, our close friends at breweries across the country have joined forces with us, helping us to turn Buy The NHS a Pint into a national campaign. With breweries signed up afrom all across the UK, you can now ensure that the NHS workers in your area get the reward they deserve.
The scheme works so well because of its simplicity – all of the money raised by each brewery is put into a bar tab at their taproom, and any NHS staff member or volunteer can come in and claim a pint once lockdown is over. Any money left over will go towards funding similar bar tabs at our favourite bars and pubs across London, so they can do the same as us once they are able to safely trade again.
With a number of beers in tank when the crisis hit, we decided to dedicate our next set of releases to further promoting and supporting the scheme. Today, we've got seven delicious new beers ready to be released, all themed around our Buy The NHS a Pint campaign.
The beers are as follows:
Buy The NHS a Pint – West Coast IPA (7.2% ABV)
This is our West Coast-style IPA. It's hopped up with Amarillo, Simcoe and some big C hops (Cascade, Centennial and Columbus) for maximum old school IPA vibes, mixed with modern notes.
Buy The NHS a Pint – Sour IPA (7.5% ABV)
This Sour IPA is a huge glass of fruit juice. Sweet, tropical and sour. It's a big, fruity IPA, hopped with Mosaic, Simcoe and Lemondrop and then blended with our house sour until perfectly balanced. It's a brunch beer with punch.
Buy The NHS a Pint – Double IPA (9.4%)
This Double IPA is full of Mosaic and Rakau hops from New Zealand. It's fermented on our house yeast and is balanced, dank, and complex with big flavour.
Buy The NHS a Pint – Triple Fruited Sour (4.4% ABV)
Think tropical solero that melted straight into your glass of Berliner Weiss. This has all the punch of a ripe bowl of breakfast fruit, mixed with a super clean, super sour base beer.
Buy The NHS a Pint – New England IPA (6.5% ABV)
Led with fruity German hop varieties (Mandarina Bavaria, Hull Melon & Blanc), mixed in with Mosaic and Ekuanot. It's been fermented on our house yeast for big sticky esters, and finishes rich with a lot of nuanced, balanced flavours.
Buy The NHS a Pint – Table Beer (3.5% ABV)
This is a refreshing, hoppy little table beer. Hit with Cashmere, Azacca and Mosaic in the dry hop, it's got a lot of flavour and clean, refreshing balance.
Buy The NHS a Pint – Pilsner (4.3% ABV)
This Session Pilsner has a clean grist, traditional yeast, and new and old school German hops of Hersbrucker and Mandarina Bavaria. It's clean, easy and full of flavour.
---
For every twelve pack of Buy The NHS a pint beers sold through our online shop, we'll donate £5 to the campaign, and for every case (24 beers) sold to trade, we'll donate another £5.
Thank you so much for all of your donations and support so far. As a small independent business, we don't have large reserves of cash, and the money you are pledging will help us through this difficult time. Once we reopen our taproom, we know it will make all the difference to the NHS workers who deserve it so much.
Our Buy The NHS Pint Specials are on sale from our online shop now.