Brewing a better life
Featured,News
Gipsy Hill
30 September 2019
---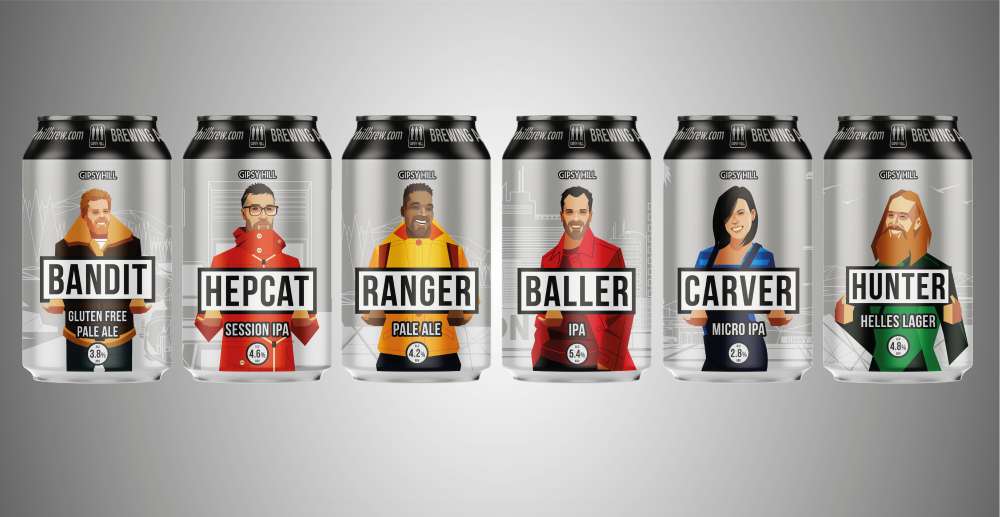 Brewing a better life

It hasn't felt like long since we were huddled round a whiteboard in a cold, empty warehouse in 2014 thinking about what we wanted Gipsy Hill to stand for.
---
Five years, and 700 brews, down the road and we figured it was time to take a moment, look back and reflect for a second on where we've come from, then think about where we're going.
There's solace in finding out that we still stand for the same things. Not much has changed at the end of the day. Turns out this isn't really about redefining who we are, it's more refining it.
So after six to nine months of work, we're finally able to reveal some refreshed branding, and a new core range, with our key message updated to "brewing a better life".
Why refresh?
Last November 2018, we sat down and decided we wanted a larger core range. In the face of more and more people doing only one-off and special beers, it seemed crazy to be expanding ours. But for us it's always been important to have go to beers in amongst the madness of four-five new beers a month. Since the start of 2018 we've only had two core beers, but made 80 one off specials. We felt we were ready to launch a wider range.
When it got down to the detail of design, of message, of purpose, of mission and of why we do what we do, we realised that we hadn't actually got those clear. Why do we do what we do? Why does anyone? Passion, learning, growing, innovating, caring… putting a stake in the ground and standing by something that makes you proud? We knew we stood for something good, or wanted to, but we had to define it.
What are we most passionate about?
Gipsy Hill was born out of family. It was cobbled together by a few guys who needed something meaningful in our day to day, because time away from our new, young families had to mean something. That's the blood that flows through our veins. Family, our team, our passion for making the best beer we can and our desire for what we do to stand for something. That means treating people right. It means investing in quality equipment. It means getting better at what we do everyday. It means holding our suppliers to the same standards and treating our customers with respect. It takes a lot of work, sacrifice and dedication to build something that's fair, something that's quality and something that's got real values, but we're getting there.
We use our passion for beer to inspire us to live a better life. And we want the same for you.
Gipsy Hill – Brewing a better life.
To be clear:
We believe in quality, and that constantly striving for quality as a habit professionally will inspire us to seek out the same personally, and so inspire us to make better personal choices.
We believe in innovation, and that continuing to push ourselves outside our comfort zone will open our minds to new personal opportunities.
We believe in community, and that the more we do for others, the more we will get out of, and seek from, our own life.
We believe we're part of a circular ecological economy, and that we need to do everything we can to give back to that cause and feel good about our actions.
We believe life is about choice and action. The fuel of life is your daily investment in doing the right thing and not compromising on the choices you have to make.
A new lineup
Refreshing our identity and values also presented an opportunity. Although we've loved making more than 80 different beers in the last 18 months, we've aspired to see more of our beers available permanently. There was no rush, we're quite happy taking our time and waiting until the time was right. Now it is.
We thought deeply about which beers we wanted to immortalise in our new core range, taking on feedback from our key customers, taproom drinkers, social media followers and the wider beer community. It was important for us to have a variety of beer styles, while sticking to what we know we are good at and do best.
As part of our new range, you'll see that our characters are much more prominently featured. Part of promoting who we are and what we're doing is wrapped up in our team and celebrating them. They're the backbone of what we do here. Their likenesses are featured on the can, and their passions are engraved into the background of each design (look closely).
We've now got a range of 6 core beers, with one (or two…maybe) more to come. 
---
Carver (Micro IPA, 2.8% ABV) – We took everything we love about IPAs and brought down the ABV. Loaded up with a big New England grist, and fermented through with Vermont yeast, Carver has got balance, tropical aromas and a smooth juicy taste. 
Featuring Alice, our Sales whizz. She likes far flung adventures.
---
Bandit (Gluten Free Pale, 3.8% ABV) – We took our beloved Beatnik, and took the gluten out. It's a light, refreshing pale. Still fruity, still floral. Loads of flavour, just gluten free. 
Featuring Sam, our Co-Founder. He likes long and windy roads. 
N.B. We've had to let go of Beatnik. It's heart-breaking, but the truth is that we've had trademark issues with it, as well as not wanting to cause any confusion for celiacs. Bandit is everything Beatnik was, just no gluten. Let us know what you think!
---
Ranger (Pale Ale, 4.2% ABV) – Ranger is a clean, balanced and zesty Pale Ale with piney, citrus and stone-fruit notes. Made using batch selected hops and the best quality malts. 
Featuring Josh, our production wunderkid. He likes home comforts and the great outdoors. 
---
Hepcat (Session IPA, 4.6% ABV) – Our mainstay and our original, this fruity, juicy and bright tasting Session IPA is everything we think the style should be.
Featuring Marcus, our Designer, illustrator and friend. He likes expensive jackets and colouring in.
---
Hunter (Helles Lager, 4.8% ABV) – An uncompromised lager. Unfiltered, with a light bitterness and spicy/bready undertones. Made with all premium malts and noble hops. Conditioned for 40 days.
Featuring Simon, our Head Brewer. He likes beaches and wild windy days.
---
Baller (India Pale Ale, 5.4% ABV) – A big punchy, juicy hop bomb. We took everything we've learnt about making IPAs and put it into this beer. Bright flavour, huge aroma and a smooth body, it's our go to IPA.
Featuring Charlie, our Co-Founder. He likes city life and fast peddling. 
The same, but different
We will be using a base printed can for all of our core products with labels to differentiate them. In the end, this made sense from a waste, storage, and recycling perspective. Using a template can plus labels means we can run much leaner can runs, lowering waste. All cans are still fully recyclable, despite the label, and the carbon footprint we're running as a brewery with a roughly 20% stock of cans at any one time is less as a result.
Off on Tour
To celebrate the launch of our new core beers and branding, we wanted to give a proper send off to our old motif – 'drink it and talk to people' – by heading out into the wide world for a series of Tap Takeover events at some of our favourite bars. On October 11th, there will be two members of The Gipsy Hill team at bars across the UK including The Gipsy Hill Taproom (London), Northern Monk Refectory (Leeds & Manchester), The Free Trade Inn (Newcastle), and Salt Horse (Edinburgh). Keep your eyes on our social media feeds for the full list of venues later on this week.
Thanks for reading!
Congratulations. You've made it to the end of this (fairly lengthy) post! Thank you for your patience and for your interest in what we are trying to achieve here at Gipsy Hill. We're really excited for you all to see our new branding out in the wild, try our new core range of beers, and let us know what you think. We hope to see you at one of our launch events next week. Cheers!