HIRING: Warehouse & Logistics Manager
Applications Close: 24/03/23
Jobs
Gipsy Hill
3 March 2023
---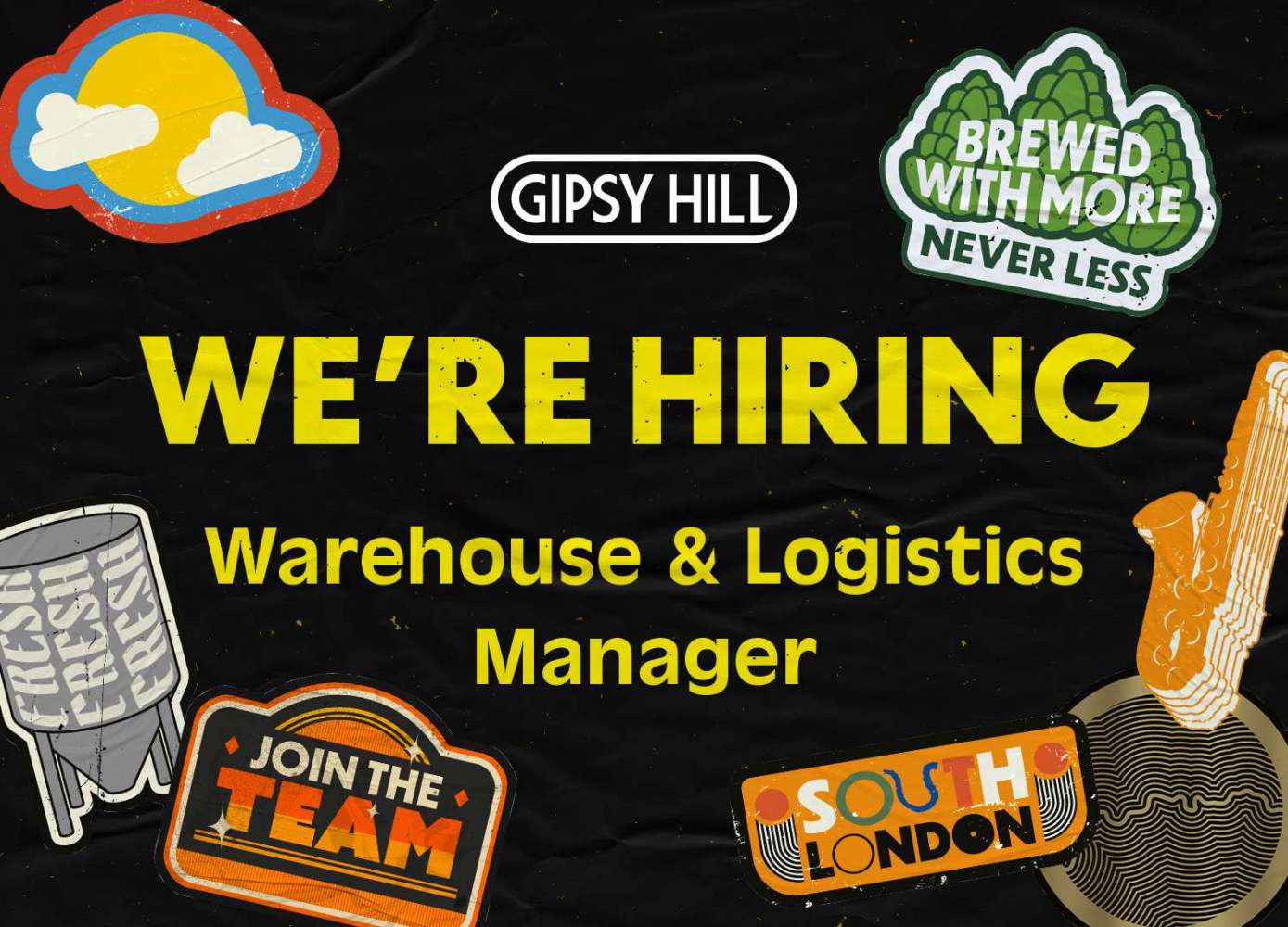 Warehouse & Logistics Manager
Gipsy Hill Brewing Company are looking for an experienced Warehouse & Logistics Manager to manage and co-ordinate the smooth running of the warehouse and logistics operations based at our 8,000sqft Warehouse in Brixton. You may also be required to work at our Brewery site based in Gipsy Hill, South London.
You will report to the Operations Manager and manage a small team of Warehouse Operatives and Drivers. You will ensure that the team are carrying out their duties effectively and customers are receiving an excellent delivery service. We are looking for someone who leads by example and are prepared to get stuck in to help the team.
Main duties:
Manage the warehouse and delivery teams to ensure that customers receive the correct goods on time and in excellent condition.
Set targets for the team and regularly review and report on performance.
Ensure that the ERP System is accurate at all times.
Organise stock transfers of finished goods and raw materials between our two sites.
Oversee the receiving, storage and restocking process to always ensure efficiency and safety.
Carry out weekly stock checks on finished goods.
Answer questions and resolve any concerns or issues relating to stock or deliveries.
Recruit, induct and train Warehouse Operatives and Drivers as required.
Ensure vehicles are kept clean and tidy and daily vehicle checks and top-ups are carried out as necessary.
Ensure the warehouse is kept orderly, clean, and tidy.
Complete all necessary administration and recording in accordance with Company guidelines.
Communicate effectively and work closely with the Sales, Finance and Production Teams.
Ensure the warehouse and delivery teams, as well as yourself, are adhering to all Health & Safety and quality standards.
Write and review SOPs and train the team on them.
Load and unload deliveries and carry out general warehouse duties.
Manage the ageing and damaged stock process.
Manage the ops@ inbox.
Requirements for the role:
Warehouse and Logistics Management experience (FMCG experience preferred).
Experience managing Warehouse Operatives and Delivery Drivers including leading performance reviews, setting targets and resource planning.
A valid counterbalance forklift license.
Proficient in Excel.
Experience using ERP systems (we use Breww).
Strong leadership and management skills.
Experience of improving service delivery and efficiencies.
Excellent customer service skills, always demonstrating a professional manner.
Able to use own initiative and demonstrate a common-sense approach to duties.
Good written and verbal communication skills.
Strong time management skills.
A flexible approach to changing circumstances with willingness to take on new tasks.
Salary & Annual Leave:
£32-40k depending on experience.
30 days annual leave (including Bank Holidays).
Regular working week:
40 hours – Monday to Friday.
Company Benefits:
Employee Ownership (EMI Scheme).
Feast Fridays (Team lunch provided by the company).
40% discount across our Bar Company, including our onsite Taproom.
Summer and Christmas team events.
Training and personal development package.
Cycle to work scheme.
Department Structure:
Reports to the Operations Manager.
Company Mission:
Gipsy Hill is one of London's largest independent breweries. We want to stay at the forefront of the emerging craft beer scene with the aim to increase capacity, grow our brand and invest in sustainability initiatives to help us achieve net-zero. All whilst remaining engaged with the communities around us.
Company Values:
At Gipsy Hill, our actions are as considered as our brewing. Here, we're linked arm in arm by passion. We choose the right route, never the easy. Giving everything so our quality leaves nothing to hide. Brewed with more, never less.
How to apply:
Please send an up to date CV and cover letter to Danika@gipsyhillbrewing.com with the subject line 'JOB APPLICATION: Warehouse and Logistics Manager'.
Closing date:
CV and cover letter submitted by Monday the 23rd March.